---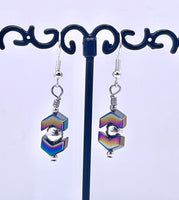 Sale
Amy Foxy Style Handmade Earrings Rainbow Hematite Arrows with Silver Beads
Sale price $15.00 Regular price $18.00
All About Amy Foxy Style's Handmade Earrings:
Each pair of earrings is handmade by Amy! Each pair is sold separately.
Earring lengths fluctuate. Most range from approximately 0.5" - 1" from the base of the hook (not including the length of the hook). A few pairs may be over 1" but not more than 1.5" from the base of the hook.
Unless notated, the hooks shown are nickel-free and hypoallergenic. 
French Hooks will come with small silicone stoppers in the box (put these on the backs when wearing the earrings to prevent them from slipping off, but it is recommended to leave them off when storing the earrings). 
Your earrings will come in a gift box. Multiple pairs may be combined into one box. If you require separate boxes for each pair, please message Amy via Facebook or email AmyFoxyStyle@gmail.com before purchase or *immediately* after purchase to let Amy know. 
Note from Amy:
These photos zoom in SUPER close and show the earrings larger than actual size. When zooming in, you can really see every unique aspect of each bead. Not only are these earrings handmade by me, but many of these specialty beads are also handmade (not by me), and their slight imperfections are what make them so special. Judge them not by their lack of 100% perfection and exact symmetry but by how they will sparkle and shine when you wear them. 💖